Warnings: 43 pictures, fires, the gays, ugly babies.



(

Oops, I did it againCollapse

)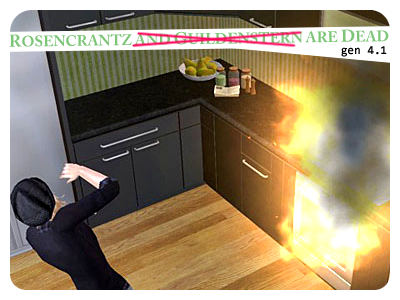 Warnings: 45 pictures, the horrible ghey, mpreg. Y'know, the usual.



(

I can has baby nao?Collapse

)

Warnings: 40 pictures, fetish-driven courtship, the usual.



(

So who won the heir poll?Collapse

)
It's been ages and I'm sorry. I don't know what's got into me!
AnyGameStarter
and since Dad gave me the blueprints to his and Mum's house, I decided it was time to make and upload a house for you guys.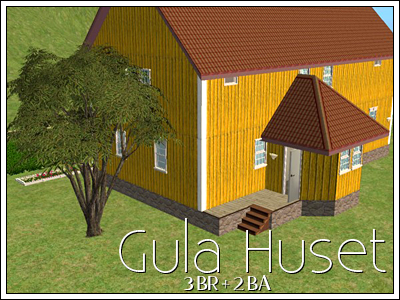 Gula Huset
Lot size: 3x2
Unfurnished: §29,682
Furnished: §80,300
(

Pictures of the floor plan and from the outsideCollapse

)



Download
furnished (789k) | unfurnished (853 k)
Gula Huset (The Yellow House) is what we've always called our big house (there are two on the farm where my parents live -- one smaller, Röda Huset (The Red House), and one bigger, Gula Huset) and now I present it to you to download for your Sims.
It fits six and a half Sims quite comfortably (six between the ages child - elder and one infant - toddler), though sometimes there are fights over the two bathrooms or who gets to go up the stairs first (but then that's just Sims for you!). Massive, huge thanks to her!
Included in the .sims2pack file are the custom walls I used for the outside panelling - perdita_x_dream's
Yellow Traditional Swedish Wood Panelling
.
The furnished version comes complete with skilling objects, TV, stereo, computer, large appliances and small electronics (phone, burglar alarm and smoke detector).
The house has been playtested (the furnished version) for a couple of Sim days and will work with all game set-ups. If you have Nightlife, there is room to add a driveway/garage by the side of the house.
Yesterday I finally downloaded
I decided to actually edit the pictures a bit this time (a little re-sizing, some added sharpness, intensity and contrast). Good idea/bad idea?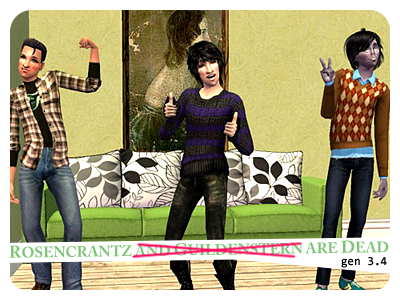 Warnings: 26 pictures, college tedium, someone gets slap-happy



(

Enjoy(?) college while it lastsCollapse

)



This time I also have an heir poll to decide who gets to be the gen 3 heir. I may or may not ignore the results of the poll if they do not come out the way I want them to. ;D Probably not, though.



(

Cut for pollCollapse

)
Next update: who knows what'll happen? Anything could!
The
family tree
has been updated.
This time the boys go to college, which is the last time that is going to happen. In the future, I'll just use the fake college diplomas, because college is more of a chore than it is any fun.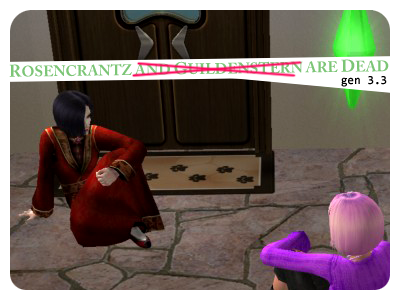 Warnings: 30-ish images, uninspired commentary, adorable pets



(

Babies grow up and others leave homeCollapse

)
Meet Aisling Mingelgrin*:
She has a bigger nose than your average Sim, and also I made her cheeks and lower face wider so she has kind of a chubby face. I think she's adorable. =D
Don't worry, I'm not about to abandon the Guildensterns. Far from it! It'll probably be a long while yet before I start posting this legacy, but eh, what can I say? =P
*Possibly the world's greatest last name ever and I swear I didn't make it up! I actually filled a script from a Dr Mingelgrin a few months back and the name stuck in my head.
Yesterday I had the bright idea to start on a second legacy. I made a founder and named her and everything, and then last night I changed my mind about the last name and stuff, so I bahleted her. This morning I made myself a new founder and here is a sneakpeak of her.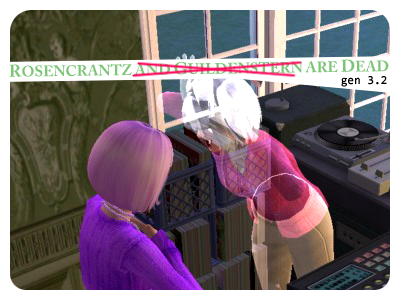 Warnings: 39 images, alien spawn, Cheaty McCheaty, RANDOM CAPSLOCK and more



(

And they're back!Collapse

)
It's been a while. Life and laziness got in the way of updating this.

Warnings: 40 pictures, death, teh crazies, scantily-clad laydees and gentlemen (possibly not actual gentlemen), inappropriate PDA, random CAPS LOCK



(

This way madness liesCollapse

)
First new post since I made this community (unless you count the welcome post/master list and/or family tree (I don't)), so YAY, y/y?